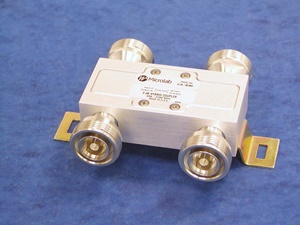 Microlab has launched a new Hybrid Coupler, the CA-88D. This Coupler is a wideband addition to the already broad range of Microlab Hybrid Couplers. The CA-88D has been designed to meet special market needs concerning size, bandwidth and PIM. It covers all common cellular bands between 698 MHz and 2,700 MHz, and its excellent PIM value of < 150dBc (@ 2x20W carrier signal) is ideal for modern wireless networks particularly whenever there is need to transport high data volumes. Low PIM reduces interference, increases QoS and with that improves network efficiency. The new Microlab CA-88D is available with either N or DIN connectors and has isolation between the input channels of greater than 25 dB.
Wolfgang Damm, Product Marketing Director of WTG says: Our novel design approach allows us to offer the Microlab CA-88D in a new very compact housing that combines not only a small footprint but also excellent PIM performance over a wide frequency range. The CA-88D is perfectly suited for a wide variety of demanding telecommunication applications, such as those that employ high data rate in Distributed Antenna Systems (DAS).
Hybrid couplers are often used to combine two wireless carriers into one band to feed a single distribution cable or antenna. This method requires the termination of one output port with a 50Ω terminator, resulting in a 3 dB loss of each signal. DAS applications however require many antennas transmitting the same signal to different locations for optimal signal distribution. Instead of terminating one output of the Hybrid Coupler, both outputs may be used, eliminating the need for a termination and preventing the 3 dB loss. The CA-88D provides 50 percent more signal energy in this configuration, helping system designers and operators to reduce costs and simultaneously increase the coverage of the installation.
The Hybrid Coupler CA-88D is available for immediate delivery from Microlab and selected distributors. Samples can be provided on request.