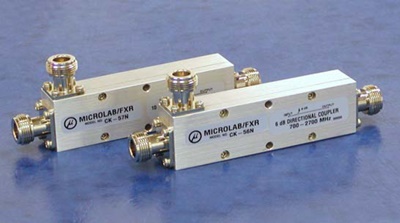 Announcing a new range of low cost Directional Couplers to meet the growing demands for expanded coverage down to 700 MHz and up to 2700 MHz.
These Directional Couplers have been designed using a multi section, microstrip design for lowest price and acceptable performance. The wide frequency range of this design allows use with multiband antennas and leaky cable systems in place of more expensive Tappers.
These Directional Couplers, with coupling values of 5, 6, 7, 10, 15 and 20 dB, are available for immediate delivery from Microlab/FXR and selected distributors. For complete details call 'Sales' at Microlab/FXR on (973) 386-9696 or check the Internet at
www.microlab.fxr.com
.