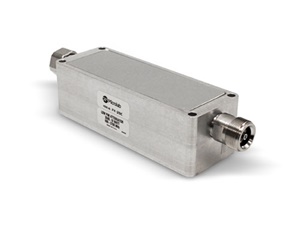 Low PIM Attenuators for DAS and Small Cell Power Solutions
Microlab, a Wireless Telecom Group company (NYSE: WTT), introduces a new product line of low cost and low Passive Intermodulation (PIM) attenuators. The new FY series of 10 Watt attenuators are designed for low power indoor applications where signal levels and flat attenuation response are critical to increase network coverage and capacity.
The FY series is suited for use in Enterprise and Urban deployments of low power Distributed Antenna Systems (DAS) and Small Cell solutions such as femto, pico, metro and micro cells. The wideband design allows transmission across all common frequency bands from 698 to 2700 MHz, including 700 LTE, 800 LTE, 850 Cellular, 900 GSM, 1800 DCS, 1900 PCS, 2100 AWS and UMTS, 2300 WCS, and 2600 LTE making it ideal for neutral host and passive DAS systems.
"We have found that low power does not automatically mean low PIM for passive components", said Murat Eron, Vice President of Engineering. "Low PIM is still essential to achieve the high data rates that low power Small Cells promise. The FY series of attenuators address this need. They are our latest addition to the Microlab Small Cell portfolio."
The FY series models are available in 6, 10, 15 & 20 dB Attenuation values with 4.1-9.5 DIN (Mini-DIN), 7/16 DIN, or N-Type connector options. Similar Low PIM Attenuators are available in different attenuation values and higher power ratings to match each customer's specific application.
Microlab's low PIM products are 100% tested and are guaranteed with our LOW PIM label. The label constitutes a certificate of qualification to our customers. Only those products that offer particularly low PIM values are eligible for our LOW PIM label. The label ensures system designers, integrators and wireless operators that they will receive reliable, high quality products with outstanding PIM characteristics. Visit our website to see the PIM values we guarantee on our LOW PIM labeled assemblies, components and cables.
Visit our website:
https://www.microlabtech.com/resources/applications/low-pim