Low band 698-960 MHz/High band 1710-2170 MHz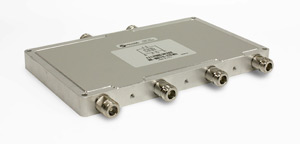 Parsippany, New Jersey, USA – October 17, 2013 – Microlab , a Wireless Telecom Group company (NYSE: WTT), is adding a new Hybrid Diplexer to its popular Hybrid Combiner Product Line. Microlab Hybrid Combiners are known for their low PIM, low loss, and high isolation which make them ideal for efficiently combining RF signals particularly in active and passive DAS deployments. The new CM-20 is an integrated 4x2 hybrid multi-band combiner with a unique design that combines two low band signals within 698-960 MHz with two high band signals within 1710-2170 MHz. This configuration allows combining of multiple carrier frequencies onto a common antenna. Perfect for combining LTE-700MHz, SMR-800MHz, or Cellular-850MHz with PCS-1900MHz, and AWS-2100MHz. This product is packaged in a compact design with either N-type or 7-16 DIN female connector interface.
"Capable of handling power levels up to 50 Watts per input, this assembly induces very little passive intermodulation (PIM) distortion", says Karl Hricko, Product Manager. "This is a versatile combiner/diplexer assembly combining multiple high and low band frequencies. The CM-20 can be utilized as a multi-band neutral host point of interface building block in DAS trays and DAS interface panels."
Multiple CM-20 assemblies can be custom configured into 19" rack mountable trays to suit your installation requirements. Microlab's CM-20 is manufactured in the USA. They are 100% tested to meet a guaranteed PIM level of -153 dBc or lower. The Low PIM label constitutes a certificate of qualification to our customers. Only those products that offer particularly low PIM values are eligible for our LOW PIM label. The label ensures system designers, integrators and wireless operators that they will receive reliable, high quality products with outstanding PIM characteristics.
For product datasheet visit:
Web:
https://www.microlabtech.com/passive-components/hybrid-combiners.html