Products Discontinued. Contact Microlab Sales at +1 (973) 386-9696 or email sales@microlabtech.com for availability.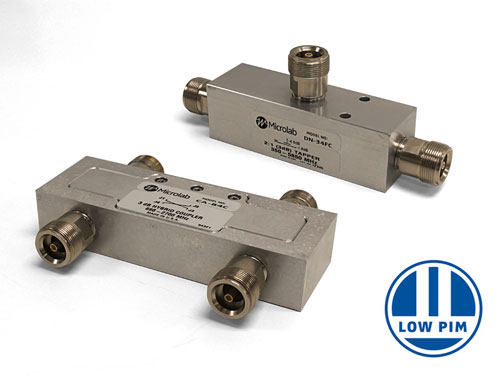 Mini-DIN Products
Microlab offers "Mini-DIN" connectors, 4.1-9.5 DIN, on its Low PIM product line to meet the high performance requirements of demanding cellular base stations, distributed antenna systems (DAS) and small cell applications. The selected product families available with 4.1-9.5 DIN connector option have our Low PIM label for their high quality and outstanding PIM characteristics.

The 4.1-9.5 DIN connectors have been designed to match the performance of the 7-16 DIN connectors, but with smaller dimensions comparable to the N-Type connector. The smaller screw-on size and weather resistance allows design-and-installation flexibility for medium to high power indoor/outdoor applications. The 4.1-9.5 DIN connectors also offer low VSWR and low PIM (Passive Intermodulation) for frequencies up to 14 GHz, making them yet another choice of robust low PIM connectors on Microlab's low PIM products.

These low PIM Mini-DIN connectors are also available on Integrated Signal Conditioner DAS trays, Combiner Trays, and Low PIM jumper cables. Other connectors available in the Low PIM product line include N-Type, 7-16 DIN, and SMA connectors.
Click on a link below to view available products by category.